Many of us have heard the more popular Wassailing Song, "Here we come a-wassailing, among the leaves so green, here we come a-wassailing...," but there is a little known song that exemplifies that most towns had their own wassailing song, the "Gloucestershire Wassail."
The tradition of wassailing dates back to pre-Christian Briton, but we have a more modern image of folks walking around a village singing carols and drinking. Wassail, (old English Waes Hael, a salute for 'good health'), a drink of hot mulled/spiced ale, cider, or mead, traditionally used to drink to the health of the following year's apple orchard and ensure evil spirits are kept away in a pagan ritual of pouring the wassail on the bare tree branches. The ceremonies are held, depending on the village traditions, but most commonly on Old Twelfth Night (January 17th—part of the Epiphany celebration).
Later, during the Middle Ages, wassailing became a tradition between feudal lords and their peasants, where it was acceptable for the peasants to travel the manor to "beg" for food and drink in exchange for goodwill; which begins our modern vision of wassailing.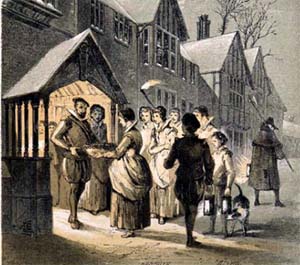 Our modern vision of wassailing was not fully celebrated until the late 18th century and early 19th century, where groups of carolers carried a decorated wassail bowl, which was either filled with a small pine tree, to take wassail from the visited houses, or collect money.